Announcment
Slack Integration Added
October 27

PageProofer is excited to announce it has released an integration with Slack. Slack has quickly become a goto collaboration tool for many design and development firms and many PageProofer users have been asking for a way to integrate PageProofer into their Slack workflow. Now you can have your PageProofer notes and comments automatically pushed to a Slack channel so everyone on your team can see what feedback and issues are occurring on your website. Each Slack message has a direct link back to the page and note/comment.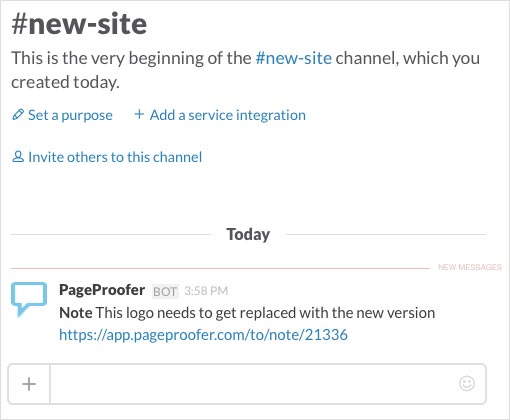 If you want to setup Slack integration with your PageProofer account you can use this easy guide.
Not using PageProofer yet? Sign up for a free 15 day trial and give your clients and team the best option for tracking issues and managing feedback during website development.
PageProofer makes it simple to manage visual feedback.