Announcment
Updates
June 4
May was an incredibly busy month for us. We added some much requested features and also added some new ways to help people add PageProofer to their websites.

Browser Extensions 🔥
Sometimes you can't easily add code to a website you want to use PageProofer on. Now you can install a browser extension and use PageProofer instantly on any website. With browsers extensions you add the extension to the browser of your choice (Chrome, Firefox, MS Edge), setup sites in PageProofer and then visit those sites and start leaving feedback. You don't need to add any code to your website.
CMS Integrations 👍
Along with browser extensions we launched plugins for WordPress and Craft Cms to make adding PageProofer simple. For website administrators this makes it much easier to add PageProofer for all users. No more editing site templates and pasting code in. Just click to add the CMS plugin and you are off and running.
Note activity 🤓
On every note you can see the complete activity. Who created it, made edits, added comments, even what the text changes were. For people doing content editing and proofreading being able to see the entire history of a note and edits being suggested/made is a must have.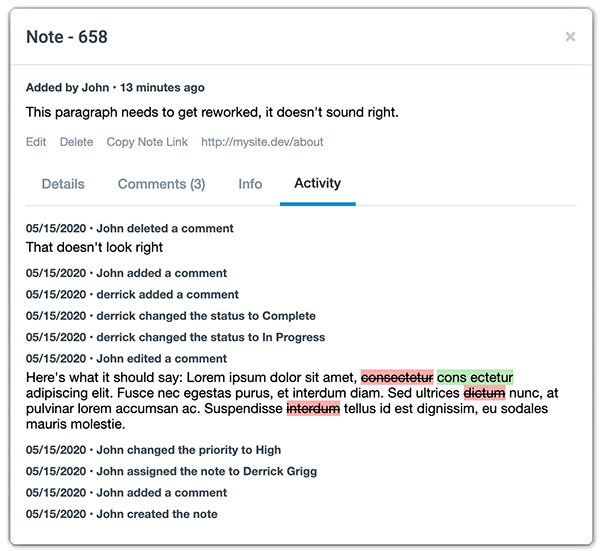 Exports
You can now export all of your site notes and comments. In the 'Site Settings' click on the 'Export' tab. A CSV file with all of the notes, comments and related data can be exported and then opened in your favourite spreadsheet app.
PageProofer makes it simple to manage visual feedback.